What happened with last year's Olympics?
The Summer Olympic and Paralympic Games were due to take place in Tokyo, Japan, last year. However, the outbreak of the COVID-19 pandemic means that it has been postponed and rescheduled to this year instead.
So when will the Games take place?
The Olympic Games will start with an opening ceremony on July 23 and will run until August 8. The Paralympic Games will take place from August 24 to September 5.
Where will the Games be played?
There are more than 30 venues, with some sports taking place in venues outside of Tokyo. There will be around 33 venues in Tokyo and its vicinity. Japan National Stadium - the venue for the opening and closing ceremony, athletics, and women's football final - was built to replace the old national stadium after it was demolished in 2015. Construction started in 2016, and it was completed in November 2019.

The Olympic Rings outside Tokyo National Stadium which will host the opening and closing ceremonies, athletics, and women's soccer final (Clive Rose/Getty Images)
Will anyone be watching?
Yes, to a certain degree. The organizer has announced that international spectators will not be allowed to travel to Japan and watch the Games. A decision on whether domestic spectators will be allowed is expected in June.
The pandemic is still going on. Is it safe to hold the Olympics?
This has been the main contention heading towards the opening ceremony on July 23. The organizer and the International Olympic Committee (IOC) have created a series of "playbooks" that detailed the procedures and measures against COVID-19, starting from before arrival to Japan all the way until participants depart from Japan.
However, low vaccination rates (around 2 percent of the population have been vaccinated) and public opposition towards the Olympics - a recent survey showed 59 percent of respondents wanted the Games canceled - there are doubts about the Olympics going ahead as planned.
What did the organizer and IOC have said about the Olympics?
"There are a variety of concerns, but as the Tokyo 2020 organizing committee, we are not thinking about canceling the games."
Seiko Hashimoto, President of Tokyo 2020 Organizing Committee.
"Absolutely, it's going ahead. The Prime Minister of Japan said that to the United States President two or three weeks ago. He continues to say that to the IOC."
John Coates, Chair, Tokyo 2020 Coordination Commission.
Will Indonesia be participating?
Yes, Indonesia will be sending a delegation to compete in Tokyo 2020 Olympics - their 16th overall appearance at the Summer Games. Indonesia previously skipped the 1964 Olympics that also took place in Tokyo.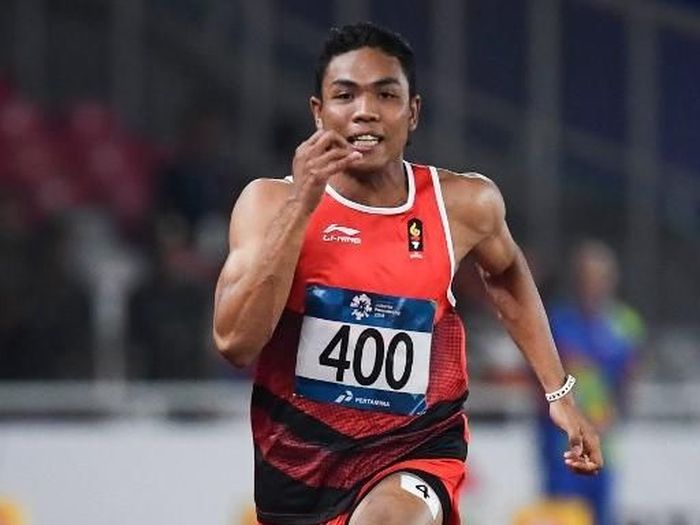 Lalu Muhammad Zohri, the Indonesian sprinter will compete at his first Olympic Games in Tokyo (Jewel Samad/AFP)
Which athletes and sports have qualified for the Olympics?
Lalu Muhammad Zohri was the first Indonesian athlete to secure a spot for Tokyo 2020 Olympics. The sprinter will be making his Olympic debut.
Vidya Rafika will also compete at shooting. This is also her first Olympic appearance.
Indonesian archers will also compete after securing an entry-by-number for the men's and women's events. In the 1988 Olympics in Seoul, the women's team secured Indonesia's first-ever Olympic medal, a silver in the women's team event.
In weightlifting, Indonesia is likely to send Eko Yuli Irawan (men's 61 kg) and Windy Cantika (women's 49 kg). The former will be aiming to be the first Indonesian to secure a medal for a fourth consecutive Games.
Badminton, Indonesia's most successful sport at the Olympics, should qualify at least one athlete for each event. Anthony Sinisuka Ginting and Jonathan Christie (men's singles), Gregoria Mariska Tunjung (women's singles), Greysia Polii/Apriyani Rahayu (women's doubles), Marcus Gideon/Kevin Sanjaya, and Mohammad Ahsan/Hendra Setiawan (men's doubles), and Praveen Jordan/Melati Daeva (mixed doubles).
Indonesia's last gold medal at the Olympics was won by mixed doubles pair Liliyana Natsir/Tontowi Ahmad at the 2016 Rio Olympics.
What are the new sports in this year's Olympics?
Karate, surfing, sport climbing, and skateboard will be making their first appearance at the Games. Baseball and softball return after a 13-year absence.
Where can I see the schedule?
You can find the official schedule for all the sports and events on the official Tokyo 2020 website. Japan is two hours ahead of the western Indonesia time zone.